Stone Lake Cranberry Festival: The first Saturday of October every year brings thousands of people to the normally quiet town of Stone Lake, WI. This is when the Annual Stone Lake Cranberry Festival is held in celebration of the cranberry harvest. Everywhere you turn, there will be delectable cranberry treats to tempt your taste buds! Events include: cranberry marsh tours, parade, crate derby, arts & crafts fair and much more!
Leaf Color Change: This area is beautiful with a mix of pine and hardwood so anywhere is good "color change" viewing. But we also have a Great National Divide nearby which creates an interesting collision of northern forests and eastern forests and plains brining a combination of colors.
The Saint Lawrence Continental Divide crosses the Chequamegon-Nicollet National Forest. Take the trip along highway 77 for any distance you desire. Hayward Fall Festival: the Hayward area is known for its recreational life style and homemade artisans. This traditional September festival showcase handmade Arts & Crafts, fall produce, live music and great food and drink.
Chequamegon Fat Tire Festival in Hayward; this annual September bike race has become a huge attraction of over 3000 riders of all levels, in four different events, including Children's Bicycle Rodeo. www.cheqfattire.com Stone Lake Cranberry Festival; this is a one-day event in October featuring over 300 artisans, crafters and food vendors to celebrate the end of the cranberry season and harvest festival. Plan for a full day and plan to get there early. www.stonelakecranberryfestival.com
Apple & Pumpkins patches are a sign of the season. We have two near us, Smiths Apple Farm in Shell Lake WI www.smithsapplefarm.com and Mommse's Pumpkin Patch in Rice Lake as www.ricelakepumpkinpatch.com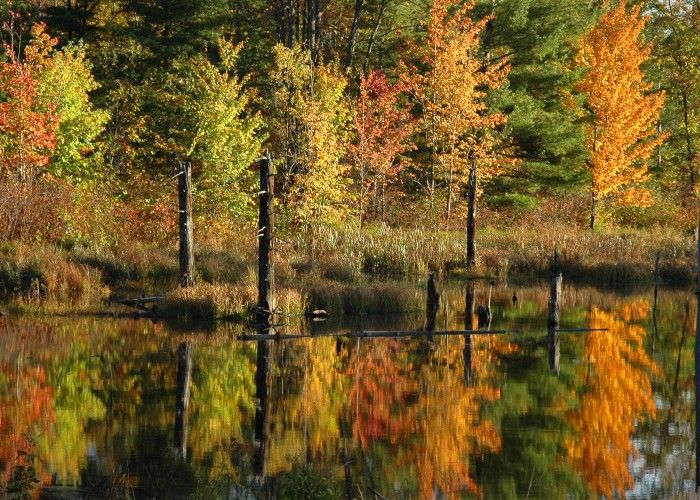 Pumpkins, Cranberries, Apples and Corn Mazes: If pumpkins are on your "must have" list, be sure to head over to Romportl Farms on County Highway A west of Spooner or The Burch Barn on County Highway K, just north of Spooner. Both places offer a corn maze. If you're looking for hours upon hours of family fun, you might want to plan to stick around The Burch Barn a while for a Grain Train Ride, Gunny Sack Slide, Corn Launcher, or one of the other super fun family activities. Fall just wouldn't be complete without some savory apples! Be sure to head out to Smith's Apple Orchard just west of Spooner to find not only the best apples around, but some of the best baked apple goodies too! Insider tip: If you don't have time to head out to the orchard itself, swing by Schmitz's Economart; they are well stocked with apples fresh from the orchard!
Fall Color Drives: ColorTour_19.qxp (washburncounty.org)
Fall Events (google websites for details and dates):
September: Mid-September is the Chequamegon Fat Tire Festival in Hayward and Cable for off-road bicyclists, and the Birkie Trail Run Festival in Cable WI for nine running and trekking evens. Last weekend in Sept is the Hayward Fall Festival with food, beer, music, and crafts
October: Mid October is the Ladies Musky Fishing School @ Deerfoot Lodge & Resort in Hayward; for female anglers of all skill levels on the Chippewa Flowage.