Whether you like the "hunt" for good deals, are looking for unique décor for your house or yard, or just looking for a day of laughs, odd selfies, and very unusual social interactions ... we have a list of eccentric things to do in the Northwoods. Some of these are indoor finds, others have large never ending yards of crap-ola or treasures (depending upon how you think about it).
Antique & Flea Market Excursion: In you are the Antique & Flea Market type, you could easily make a day excursion visiting many of the unique area sites. With only a few minutes of the cabin...in Earl there is an old schoolhouse built in 1924 where you'll find the home of Prock's Crocks and Antiques. Seriously, what a PERFECT place for an antique shop. Be sure to check out the "garage" too, because that's where I've found some of my absolute favorite treasures. On your way to Spooner, you'll want to swing into Antique Adventures, and Poor Richard's Antiques. Last, but certainly not least, you'll need to hit downtown Spooner where you'll find the Copper Horse, Rusty Bucket and Antique Associates. They are on the same block, making it the perfect stop to really explore a variety of collections.
Hayward Region Summer Flea Market: Hayward also has a weekly Monday Flea Market in the summer that brings all the vendors out from around the region @ Hayward Sports Center. Conveniently, you can also rent at ATV/UTV while there, but many vendors do have booths and bring their best selection of sellable items. If you are looking for more browsing and
Oddities, Hunt-and-Find & Bartering: If walking (hunting) through a prairie of unique, unusual and some reasonable good deals is your thing, there are plenty of options in the area. One of the more eccentric is Finders Keepers (just past the Lumberjack Championship area at 15409 County Highway B, Hayward.) This place is crammed with finds and most are not antiques, but everything is recycled. The buildings are crammed and so is the yard. They have used sporting equipment: bikes, helmets or life jackets or snowshoes or sleds if forgot them as well as games, clothes, boats, furniture and yard art as well as décor and antiques (it requires a seek and find). It is ... unique ?!? Mike, at Finders Keepers is likely to be wearing a Vikings article of clothing, and may have stories to tell, but he is Hayward through-and-through. He also rents paddleboards, row boats and other things in the summer. Try also, Scrappy's Gifts and Ventures Unlimited and next to that, a used book, CD, vinyl shop, all in Hayward.
Route 63 Bar in Springbrook: So this may not be what you'd typically expect when you are antiquing, but neither is the owner, who is as eclectic as the bar itself. Everything on the walls (and ceiling, and furniture, and décor, and musical instruments on the stage) is for sale. Whether you go to play a game of pool, grab a pizza, or listen to the live bands (every Saturday night and open mic night on Wednesdays or Thursdays), it is an experience. Plus in the summer, they have artisan ice cream make-your-own-sundae bar.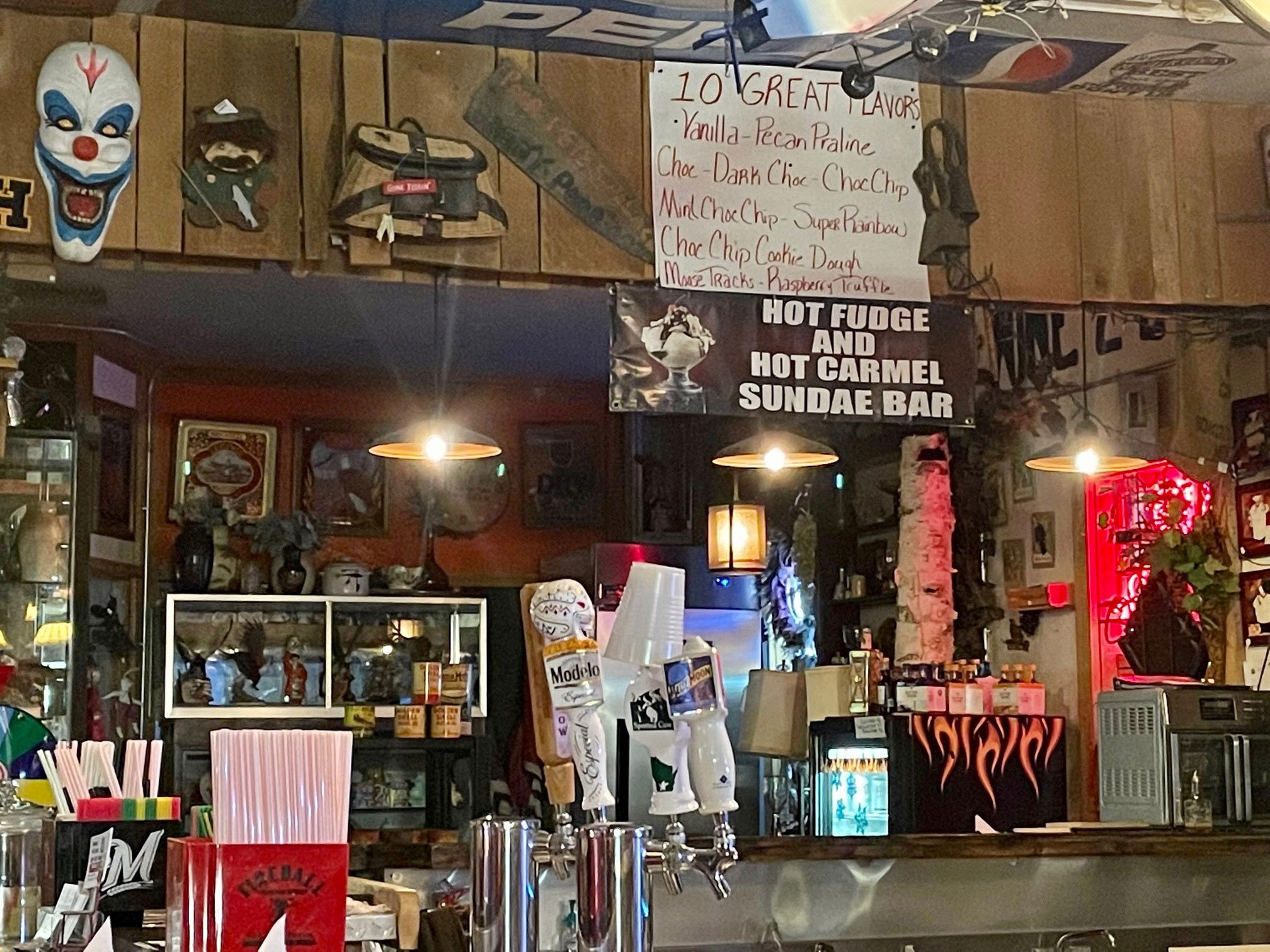 The Moccasin Bar in Hayward: go ... so you can't buy the décor here, but it is worth a trip for the décor alone. Caution though, no children allowed. As one of the oldest bars in town, in the oldest most historic building in town, it's likely you have passed this and thought nothing of it. It's mint green color, shabby outside upkeep and "Biggest Stuffed Musky" sign might not have called you in. But once inside, you will find the most fascinating diorama's of taxidermy, including albino deer, squirrels fishing, animals playing cards, and more. And, the bar itself, is in fact, the cleanest most tidy behind-the-bar around. You'd be impressed!