Birkie & Lumberjack Championship Events: This is northern Wisconsin, after all, so why not celebrate the weather and every season it brings. Every mid-March, there is a Fat Bike Birkie, the end of July is the Lumberjack Run Birkie (which coincides with Haywards Lumberjack World Championships) and a Birkie Trail Run Festival in late September. Lindy's Berries & Goat Milk Soap. Open for in-season you-pick berries. Call to get up-to-date strawberry picking information at 715-468-7635
Hayward Farmer's Market is open from June 1-Sept 1 on Mondays from 11:30-4:00, located 1 block from the Angry Minnow. (corner of 63 and Michigan) Horseback Riding: The area has over 30 miles of trail loops of Horse friendly trails at the Dugan Run Horse Trail, approximately 13.5 miles east of Spooner. The trailhead is located two miles south of Highway 70 off of Harmon Lake Rood. Water & toilet facilities are available. 715-635-4490
Hayward Monday Flea Markets is open every Monday from 11-4 located in the parking lot of Hayward Sports Center. Here, many area and regional retailers select their most interesting or marketable items and bring them to one location for easy shopping. When you are done, grab lunch (so many choices, River Street, Millers, Northwoods Burgers, Coops Pizza, Tacos, Backwoods Coffee) and rent an ATV/UTV (from Hayward Sports.
Antique Adventures Flea Market & Antique Village Saturday, June 5th | 8:00 a.m. to 3:00 p.m. Antique Adventures | N7335 Benson Blvd | Trego, WI 54888 920-229-0322 Come one, come all for Antique Adventures Flea Market & Antique Village! The 1st & 3rd Saturday throughout the summer will have a local flea market so come out and see what treasures you can find - antiques, collectibles, and so much more. New this year will be Antique Adventures Village filled with "pop-up" shops full of goodies. You won't know what you're missing until you find it. More Flea Market dates to look forward to! Saturday 19th, July 3rd & 17th, August 7th & 21st, September 4th & 18th, and October 9th.
If you are visiting us in June, look into the Spooner Family Festival. It's an afternoon fun run and family festival for all ages. The event is completely free and includes activities, entertainment petting zoo, mini train rides, face painting, and craft projects. Typically, the last weekend of June is the Hayward Musky Festival, which includes the crowing of the Musky Queen, sidewalk sales, arts and crafts, live music, food booths, catch and release fishing contest, street carnival and more. www.muskyfest.com Birchwood Bluegill Festival Friday, July 16th | Saturday, July 17th | Sunday, July 18thDowntown Birchwood, WI 54817715-354-3411 Looking for a weekend of fun? Come to Birchwood for a great festival including a fishing contest, medallion hunt, softball tournament, children's games, horseshoe tournaments, food vendors, street dances, and much more! There will also be a Grand Parade on Main St. happening on Sunday!
If you are visiting in July, there are plenty of attractions. For almost 70 years, Spooner has hosted the Spooner Rodeo. Fans see the best of the competitors and take part in the fun, food and thrills. www.spoonerrodeo.com. Not to be out-done, a few weeks after that is the Hayward Lumberjack World Championships, offering 21 unique competitions. Chain saw carving, log rolling and many more. www.lumberjackworldchampionships.com
Fur Trade Rendezvous : July 30th, 31st & August 1st, | 10 AM to 4 PM Each Day Forts Folle Avoine Historical Park | 8500 County Road U | Danbury, WI 54860Adults $10 | Ages 5-15 $6 | 4 & Under Free | Seniors/Students/Military $8 715-866-8890 When the fur traders packed their canoes with precious furs and began the arduous journey north after the long cold winter at Forts Folle Avoine, their destination was Grand Portage. There, for a few weeks before preparing for the return trip, they could relax as they took part in the much anticipated Rendezvous celebration. Each July, here at Forts Folle Avoine Fur Trade Rendezvous, dozens of fur trade camps fill Sayer's Field and Trader's Row. Represented is a variety of unique characters, all gathering together after a rigorous winter of trapping. As was true two hundred years ago, goods are "traded", stories told, and fun times enjoyed by rendezvous campers, traders, and visitors. Rendezvous includes demonstrations of period skills including black powder shooting, archery and tomahawk throwing. Tasty food prepared in the fur-trade era manner is a treat. Goods offered by the traders include period clothing, furnishings, camp gear, trade silver, animal skins, jewelry and a fascinating variety of other utilitarian and decorative items.
If you are visiting the first weekend in August, look into Jack Pine Savage Days is great for Spooner Sports enthusiasts are big fans of fun. Whether you are a runner, love volleyball, want to compete in beanbag tosses, you're in the right place. www.jackpinessavagedays.com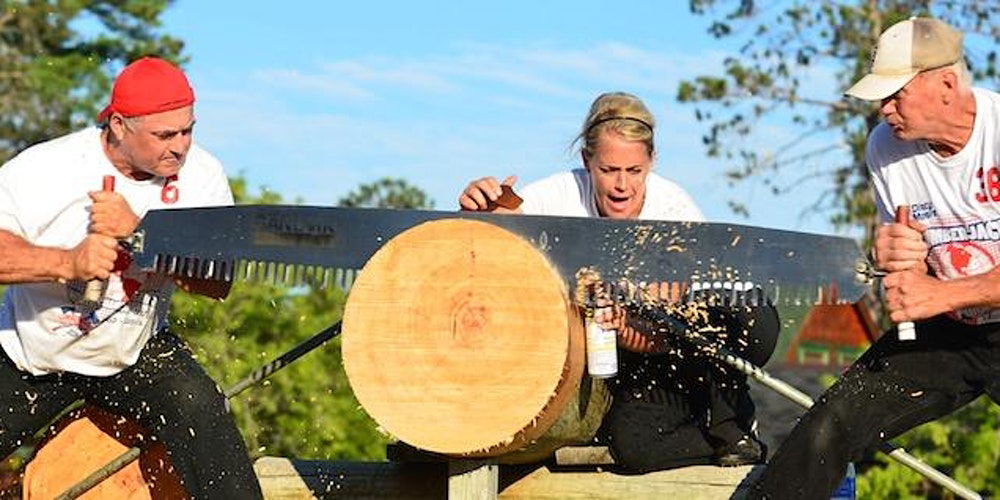 Minong Summer Days: Friday, August 13th | Saturday, August 14th | Sunday, August 15th Downtown Minong Area 715-466-1017Fun for all ages! We have a weekend full of great events planned including one of the area's best carnivals that includes with 13 rides, games and lots of fun! Other events include a softball tournament, 3 day Flea Market, Car show, Live music from 2nd Time Around Band, Larry's Drifters and the D-boys! As well as food vendors and a beer tent! See below for a schedule of events. ENJOY!
Seasonal Events (google actual websites for dates and details):
June Events: 1st weekend Vroom Waterfront Car Show in Bayfield WI, 1st weekend ATV Rumble on the Lake @ Staudemeyer's 4 season Resort in Cable WI, Last weekend in June is Musky Fest in downtown 'Hayward.
July Events: 1st weekend is Spooner Block Party @ Spooner Fairgrounds with musical headliners, Fireworks @ The Landing at Dusk, Mid-July is the Spooner Rodeo @ Spooner Fairgrounds, Mid July is the Bluegill Festival in downtown Birchwood Wi, and last weekend in July is the Lumberjack World Championships in Hayward.
August Events: 1st weekend is Jack Pine Savage Days in downtown Spooner, 1st weekend is also Band on the Barge at Big Island Sand bar on Long Lake in Sarona (bring your own boat),